Dawson City: Frozen Time premieres
Dawson City: Frozen Time
(120 minutes, 2016)


World premiere:
73rd Venice Film Festival

Monday 5 September, 5:00p
Sala Darsena, Lido di Venezia, IT

Tuesday 6 September, 3:00p
Palabiennale, Lido di Venezia, IT


North American premiere:
54th New York Film Festival

Sunday 2 October, 12:00p
Bruno Walter Auditorium, Amsterdam & 65th St, NYC

Tuesday 4 October, 9:00p
Francesca Beale Theater, 144 W 65th St, NYC
---
Different Trains LIVE - September 29 at Metal Liverpool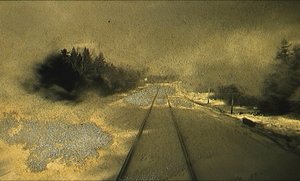 Different Trains LIVE

World premiere of a live film-music performance of Steve Reich's 1988 masterwork.

September 29, 2016
Edge Hill Station, Liverpool, UK

For the first time in the 28-year history of Steve Reich's landmark composition, a film accompaniment has been permitted, in the form of a newly commissioned work from artist and filmmaker Bill Morrison.


This unique performance will take place in collaboration with Steve Reich himself, three days before the composer's 80th birthday, performed by London Contemporary Orchestra and Sound Intermedia, as part of

Metal Liverpool

.
---
"Beyond Zero: 1914-1918"
Beyond Zero: 1914-1918
(41', 2014)
Film by Bill Morrison